Egyptian dandies: street style craze promises fame for hip young men
时间:2019-11-16
作者:芮荩郁
Ahmed Zalata isn't a model, but he's acting like he wants to be one. On a hill above the minarets of old Cairo, in one of the city's only parks, a photographer snaps him posing in Ray-Ban sunglasses, ripped jeans and a patterned hipster's jumper.
It's a common, if odd, sight in these days. Stroll through one of Cairo's very few green spaces at the weekend, and more often than not you'll meet a gaggle of well-coiffed young men, photographing each other with expensive long-lens cameras.
"Everyone is doing it," says Zalata, a 20-year-old business student, who is being photographed alongside two friends. "A lot of guys are buying cameras now for this reason."
Zalata's photographer, , agrees: "People see it as the easiest way to become famous."
And not just famous – but Famous, with a capital F. On Facebook, photographers such as Effat have set up dozens of groups with syntactically skewed names such as , or variations thereof. There are several Famous in Egypts, a Famous Egypt, and even a Famous People & Model of Egypt.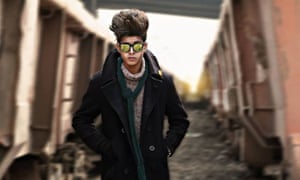 After you've paid for your photos – upwards of 60 Egyptian pounds (about £5) for a set of 10 – the aim of the game is to upload them to these groups, or to your own profile, and then wait for adulation to follow. Usually this takes the form of Facebook friend requests, or "likes" – but the dream, rarely fulfilled, is that Famous leads to real celebrity.
For a select few stars of the Famous scene, the craze has brought them advertising deals, street recognition, and a large online following. The most famous name in Famous, Sonek Diab, a 20-year-old communications student, has more than 44,000 Facebook followers, and appeared in adverts for a burger chain and a crisps company.
"I'm not a singer, I haven't done anything apart from being photographed," Diab – real name Mohamed Emad Eddine – admits over coffee. "I've become famous without doing anything else."
He has nevertheless helped create a specific aesthetic, an Egyptian take on the metrosexual hipster. Styles vary, but Famous boys typically wear skinny trousers and Nordic-style sweaters, and cultivate a mushroom of floppy, bouffant hair. For an extra fee, photographers will use Photoshop to add eyeliner, tattoos and earrings.
In macho Egypt, these are all frowned on. In fact, in a country where male stereotypes are sometimes limited to bearded Islamists or moustachioed strongmen in ill-fitting suits, Famous represents a departure from traditional perceptions of masculinity.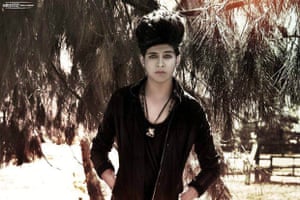 "We're wearing clothes that try to emphasise the body – and that's a new thing for Egypt," says Medoz, aka Mohamed Ahmed, . "Of course people criticise that; they say you're imitating girls. But we're imitating foreigners – they don't have limits. Everyone is trying to implement what's on their minds, without anyone stopping them."
Famous is a means of circumventing conservative social norms, agrees one of Medoz's clients, Kamal. "Sometimes people say we don't look manly, others say it's against religion," says Kamal, a 21-year-old accountancy undergraduate being snapped by Medoz in another park across town. "But we want to do something different, something new, whether they like it or not."
For Sonek Diab it's partly a result of the 2011 revolution. Diab has posted photographs of himself since 2009, but he only noticed the trend take off – and the word "Famous" popularised – in the past year. And that, he reckons, is linked to .
"When the revolution calmed down and people left politics, they started to follow their own desires, to explore Facebook, to see what was happening there," Diab says. "Bit by bit people started to see more examples of fashion."
But it's not just about clothes, or fame: it's also about girls. . It's more of a craze, though, for their male counterparts, who see it as a good means of connecting with women in a society where it's usually hard to socialise with the opposite sex.
"Girls are following these pages," says Ahmed Zalata. "And through the page they get to know my personal account, and then they send me a message. One told me: these are fantastic pictures. So I took her number, and we stayed together for a week."
All this has left a cultural footprint. In certain circles, people speak of "famayza", an Arabic neologism that collectively refers to Famous types. The trend reached , which said Famous-style threads looked so feminine "to the point that makes you confused about whether it should be listed as male or female clothes". And it has influenced the stocks of the fashion stores themselves.
"It changed the way we bought in clothes," says Islam Emad, a manager at Fog Fashion, a mid-market menswear chain. He first noticed people asking for Famous-style jumpers nine months ago, and now jokes "half of Egypt" is at it.
"Before I'd buy in plain clothes," Emad says. "Now I'm buying in the patterned ones, and the factories aren't even stocking the plain ones. And that's all because of Famous."
Additional reporting: Manu Abdo